European Parliament to vote resolution on Georgia
By Ana Robakidze
Tuesday, December 16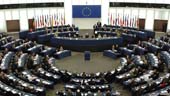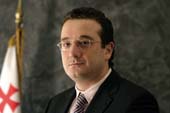 Georgia's Foreign Ministry is calling the ratification of the Association Agreement (AA) between Georgia and the EU at the European Parliament's plenary session on December 18 "historic". The European Parliament is also expected to adopt a resolution regarding Georgia.
"Ratification is another important point and another demonstration of the fact that Georgia's European future is shared by our partners and this is another great opportunity and great responsibility to use all the benefits of the new legal framework of the AA Agreement with the EU in a timely manner," Foreign Minister Tamar Beruchashvili said.
State Minister of European and Euro-Atlantic Integration of Georgia David Bakradze hopes the European Parliament will recognize all the progress Georgia has achieved in its resolution. Bakradze promised that the government will carefully follow and take into consideration all the recommendations the EU may have for Georgia.
"The government will naturally take the recommendations of the resolution into consideration, but we have the expectation that the progress, for which the Association Agreement was signed between the EU and Georgia, will be recognized. This is the progress Georgia has made in media freedom, labor rights, judicial reform, property rights and other areas. Accordingly, we are expecting a very important, historic decision," Bakradze said.
Unlike the government, Georgian experts in international relations, as well as opposition parties do not have overly positive expectations from the EU resolution. Many believe the document will probably voice the EU's criticism towards Georgia.
Expert Sergi Kapandaze said in his TV interview that the latest OSCE report on Georgia which criticized the judicial system in the country and the way some criminal prosecutions have been held recently will have a negative impact on the upcoming EU resolution.
Expert Khatuna Laazagidze expects the EU to criticize Georgia for the recent high profile criminal case related to the former Defence Ministry officials, as well as for the judicial system, which still has to be reformed. She hopes the government will consider all the recommendations following the resolution.