Tbilisi Mayor looks to Dublin for traffic solution
Tuesday, December 16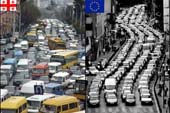 Tbilisi City Hall is doing its best to fix the traffic woes in Georgiaís capital city Tbilisi and has teamed up with an international partner to learn how to tackle the countryís growing traffic problem.
Tbilisi City Hall will learn from Dublin, Irelandís, experience in environmental and traffic jam management. The two cities signed a Memorandum of Cooperation last week to allow Tbilisi to learn from Dublinís experience.
Global navigation experts TomTom claimed Dublin was the 10thmost congested city in the world.
Tbilisi Mayor David Narmania has invited two specialists from Ireland to study Tbilisiís transport management system and offer recommendations on how it can be developed using modern technology with the aim of easing the capital cityís major traffic jams.
The Tbilisi budget indicated that this program would significantly improve the condition of the environment and improve the cityís appearance, as well as creating recreational spaces for locals to enjoy.
Tbilisi City Hall increased the capitalís budget by more than 7 million GEL for 2015, with additional money going towards taking care of the environment.
In next year's budget, Tbilisi City Hall will allocate more than 75 million GEL towards ecological and infrastructure projects.
(Agenda.ge)