Printing House starts new line of production of food grade packaging
Tuesday, December 16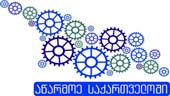 Within the framework of the state-run program Produce in Georgia, implemented by the Ministry of Economy and Sustainable Development of Georgia, on December 8, 2014 Cezanne Ltd. signed a contract with LEPL Entrepreneurship Development Agency. The financial endorsement contract gives Printing House Cezanne Ltd. the opportunity to start the new line of production, ensuring re-equipment and development of the company.
JSC "TBC Bank" has issued credit of 1 300 000 US dollars to Cezanne Ltd. Entrepreneurship Development Agency ensures the full coverage of 10% interest rate accrued throughout two forthcoming years. This means that for next two years the beneficiary company will not incur any charges related to the interest payable.
Cezanne Ltd. is due to purchase new machinery and equipment to expand and enhance the production workflow and company activities. The beneficiary company will use the credit amount to produce the food grade packaging: paper cups for hot and cold drinks, plastic lids for the paper cups, Kraft paper carrier bags/shoppers, consumer bags for bread and pastry products, food pail boxes, clamshells, lunch boxes, French fries trays and other types of food grade packaging. So far, these food packaging products have mostly been imported to Georgia. Cezanne Ltd. is now offering the wide-spectrum packaging production of a kind for the first time in Georgia.
As a second stage of company development strategy, Cezanne Ltd. is planning to build new, 16,000 square-meter production premises, thus combining commercial printing and packaging. The joint investment for two projects will amount to 4 000 000 USD.
The new project is due to be launched in April 2015, in Tbilisi, Georgia and will employ up to 30 people in addition to 95 full-time staff members already employed.
Cezanne Ltd.is one of the leading printing houses in the Caucasus, meeting the highest standards for offset printing. Cezanne Ltd. has established and applies a Quality Management System for Design, Layout and Offset Printing and is a holder of ISO 9001:2008 certificate.
(Ministry of Economy)