Moscow to annex Tskhinvali region?
By Messenger Staff
Tuesday, December 16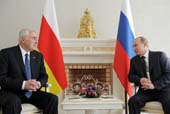 De-facto President of South Ossetia Leonid Tibilov stated on December 10 that he has discussed the region's desire to directly join with Russia.
The statement was responded to urgently by the Georgian side.
Tibilov stated that signing the memorandum with Russia is planned for 2015 and a draft of the document would be finalized soon.
Prior to these statements, he met with an Russian oligarch Oleg Govorun, who chairs a department dealing with issues pertaining to CIS states, as well as well with Abkhazia and South Ossetia in the Kremlin's administration.
Tibilov stated that the meeting was dedicated to the region's defense and security issues, as well as borders, medicine, culture and language-related problems.
The same issues are reflected in the memorandum on "Alliance and Partnership" signed between Russia and Abkhazia, a step that has been evaluated by Georgian officials as an attempt to annex the region.
However, Tibilov is not satisfied with the form of collaboration chosen by Russia and Abkhazia and demands more.
"I have proposed that Tskhinvali directly be joined with Russia. We will get an answer on the question in the near future," he said.
According to Tibilov, the reason behind this initiative was the threat coming from Georgia. He said that the Georgian government is actively empowering its military capacities, which can be taken as an obvious danger to Abkhazia and South Ossetia.
"As the head of state, I am obliged to create a safe environment," Tibilov said.
Georgia's Foreign Ministry was concerned with the de-facto leader's "destructive" statement, suggesting that such statements could not have been made without Russia's interference.
Georgia's President Giorgi Margvelashvili said that the international community is aware that Russia is going to sign the same document with the Tskhinvali region as it did with Abkhazia.
"This is unacceptable. Problems between the countries should be solved through dialogue," Margvelashvili said.
The Georgian side recognizes that the only way to react to such problems is informing the international community. However, the Georgian side is obliged to do more than making statements. It is not profitable when you broaden your collaboration with the occupier and at the same time demand from the international community to impose sanctions on Russia when you do not join the same sanctions that had been imposed on the country following the Ukrainian developments.