Georgian President and MPs to attend ratification of Association Agreement
By Ana Robakidze
Thursday, December 18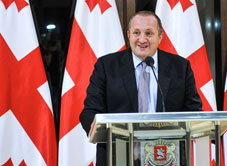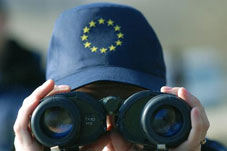 President of Georgia, Giorgi Margvelashvili will attend the European Parliament session, which will ratify the Association Agreement with Georgia.
According to the president's administration, Margvelashvili leaves for Strasburg to participate in a historic day for Georgia. The administration believes ratification of the AA by the European Parliament will speed-up the ratification process by the EU member states.
Heads of the Parliament Foreign Affairs Committee and European Integration Committee, Tedo Japaridze and Viktor Dolidze will also leave for Strasbourg to participate in the parliament session on December 18th.
Members of the Georgian cabinet will not attend the parliament session in Strasbourg. According to the State Minister on Euro-Atlantic integration Davit Bakradze, it is natural that the Georgian cabinet will not be presented at the session. Bakradze said the government signed the AA agreement and now it is the parliament's responsibility to follow up the ratification process.
"Regrettably the head of the Parliament (Davit Usupashvili) will not be able to attend the session, but still we will send a very representative delegation," Bakradze said.
Reportedly, former President, Mikheil Saakashvili has been invited to Strasbourg by some European MPs. However, it is still unclear whether he attends the session.
Prime Minister Irakli Gharibashvili sent a letter to the European Parliament and thanked the MPs on behalf of the Georgian people for their support. The PM says in the letter that Georgia has overcome all the difficulties and pressures to become closer to Europe.
"We have moved closer to European standards and are now firm in our decision to keep the course and follow the path to the EU, whatever it takes," the PM says in his letter.
While Georgia is working to ratify the AA with all the EU member states, the EU continues its monitoring work in the country. The EU Monitoring Mission (EUMM) received an extension of its mandate on December 16. The mission has been working in Georgia since the August war in 2008.
EU extended on Tuesday mandate of its monitoring mission in Georgia, deployed after the August 2008 war, for two years until December 14, 2016.
"Through the EU Monitoring Mission, the EU is providing concrete support for peace and stability in the region. The EU continues to firmly support the sovereignty and territorial integrity of Georgia within its internationally recognized borders," EU Foreign Policy Chief, Federica Mogherini, said in a statement on December 16.