Tbilisi is ready for the direct negotiations with Moscow
By Ana Robakidze
Monday, December 22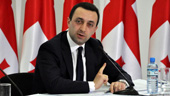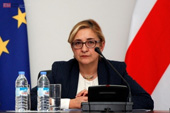 Georgian Prime Minister Irakli Gharibashvili said he and his government are ready to meet the representatives of the Russian government. However, defining the format and location of the meeting will require good preparations.
Speaking at his annual news conference on December 18, President Vladimir Puttin said he is ready to move towards future negotiations if the Georgian government considers it possible and he would be glad to see any representative of the Georgian leadership – the President or the Prime Minister, in Moscow.
Gharibashvili also mentioned that if he meets the Russian President, he will be looking for tangible results from the negotiations.
"I believe holding a meeting just for the sake of meeting is wrong. The meeting should aim at reaching a concrete result. If this is the case, we are ready for the talks," the PM said.
The Georgian Prime Minister's special representative for relations with Russia Zurab Abashidze says high-level meetings between the two countries are possible, but will require detailed planning.
"We reiterate the possibility of a meeting, but emphasize that it needs serious, thorough preparations. To be more precise, we need to agree on the place, time and topics of the meeting. In our opinion, a Georgia-Russia meeting at the highest level, should be focused on the discussion of the main problematic issues. It should aim at reaching concrete results and gradual resolution of these problems," Abashidze stated.
According to Foreign Minister, Tamar Beruchashvili, the ministry is not working on preparing high-level meetings with Russia.
"Georgia's Foreign Ministry is not working on this issue currently. We are engaged in the Geneva format. The Abashidze-Karasin dialogue also exists, which is being suspended at this moment because the next meeting has not been planned yet," Beruchashvili stated. .
President, Giorgi Margvelashvili is ready to meet his Russian counterpart.
Speaking to one of the TV channels, Margvelashvili said Georgia is a victim of Russian aggression and Moscow has to be ready to discuss bilateral relations with Tbilisi.