China offers Georgia 9 million GEL financial aid
Monday, December 22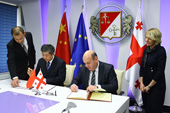 China has pledged to offer almost $5 million USD (about 9 million GEL) financial aid to Georgia to implement economic and technical projects.
The $4.8 million in aid will be allocated to priority economic and technical projects of Georgia, which will be selected through consultations between the Georgian and Chinese sides.
The Economic and Technical Cooperation agreement was signed today between the Georgian and Chinese governments in Georgia's Ministry of Finance.
From the Georgian side, the document was signed by Finance Minister Nodar Khaduri and from China's side by the Ambassador Extraordinary and Plenipotentiary of the People's Republic of China to Georgia, Yue Bin.
Since 2005 the Chinese government has allocated than $41 million USD (77.3 million GEL) in grants to Georgia and $4.3 million USD (8.1 million GEL) as a 20-year interest-free commodity credit with a grace period of 10 years.
With this financial support, strategic fields of agriculture, such as irrigation and greenhouses as well as the Finance Ministry's Revenue Service, has been equipped with appropriate hardware and technology.
(agenda.ge)