Georgia improves rating in Forbes Best Countries for Business
Monday, December 22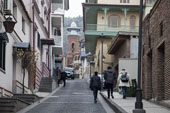 Forbes magazine has ranked Georgia among the top 50 countries in the world for doing business in 2014.
Georgia's 2014 ranking was three places higher than its 2013 ranking.
This year Georgia ranked 47thout of 146 countries and was praised for its high ranking in trade freedom (sixth) and red tape (fifth).
The Forbes Best Countries for Business report ranked the 146 countries according to eleven factors: property rights, innovation, taxes, technology, corruption, freedom (personal, trade and monetary), red tape, investor protection and stock market performance.
Georgia's Deputy Economy and Sustainable Development Giorgi Janelidze believed research instruments of Forbes ratings depended on earlier reports, including the Heritage Foundation's Index of Economic Freedom, Global Competitiveness Index and World Bank's Doing Business Report. Georgia's positive evaluation in these reports gave additional value to its rating.
"Forbes is one of the world's most influential business magazines. It is very important that Forbes articles are targeted by the important target audience for Georgia including big business representatives. Positive information about countries in publications like Forbes can influence their business decisions where to invest money," Janelidze said at today's press conference.
Georgia's rankings
• Trade Freedom – 6
• Monetary Freedom – 52
• Property Rights – 105
• Innovation – 120
• Technology – 66
• Red Tape – 5
• Investor Protection – 42
• Corruption – 46
• Personal Freedom – 67
• Tax Burden – 34
Meanwhile Denmark returned to the top spot – something it enjoyed for three straight years between 2008 and 2010. Hong Kong ranked second and New Zealand placed third.
Forbes Best Countries for Business 2014:
1. Denmark 2. Hong Kong 3. New Zealand 4. Ireland 5. Sweden 6. Canada 7. Norway 8. Singapore 9. Switzerland 10. Finland
(Agenda.ge)