Georgia is associated with Europe
By Messenger Staff
Monday, December 22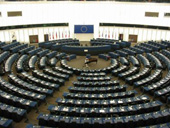 On December 18, European Parliament ratified the Association Agreement (AA) between the EU and Georgia. This also means that Georgia enjoys deep and comprehensive free trade with the EU. This is yet another step for Georgia to further integrate with European countries. However, this fact also includes serious challenges for Georgia to comply with the EU requirements. However he most serious threat to Georgia might be from its northern neighbor Russia.
Europe's parliament supported the AA with Georgia with 490 votes; 76 voted against and 57 abstained.
The same day, the parliament adopted a resolution on Georgia, approved by 491 votes. The voting was preceded by serious debates about Georgia a day before. One of the important intrigues of the voting, was the presence of the Georgian delegations. If not for President Giorgi Margvelashvili's last moment decision to attend the voting, the Georgian delegation would not have been as representative as it was at the session. There was a kind of surprise from the European Parliament, as some of its members had invited Georgia's former President Mikheil Saakashvili to attend the session. Therefore, during the voting process, current and former presidents were sitting fairly close to each other, though they did not communicate.
Two other countries, Moldova and Ukraine, had joined the EU as associated members earlier in autumn 2014. The AA will come into force as soon as all 28 EU member states ratify it. So far 11 countries have ratified the agreement.
The resolution included topics about several criminal cases now ongoing in Georgia against former state officials. The country was also recommended to take into consideration the remarks of the OSCE report on monitoring criminal court sessions in Georgia.
Tbilisi says that such remarks are not quite fair and believes all the criticism Georgia has received from the EU is a result of lobbying the United National Movement (UNM) opposition party has been receiving in the EU, as the party still has a number of supporters there.
The European Parliament condemns Moscow's policy against its neighboring countries and supports the Georgian government in taking steps to normalize relations with Russia.
The resolution requires Moscow to call back the recognition of Abkhazia and South Ossetia as independent states, and therefore stop occupying Georgian territories.
It also condemns the recent agreement between Moscow and Sokhumi on alliance and strategic partnership, considering it to be an attempt of Russia to annex Abkhazia.