President Margvelashvili meets with Free Democrats
By Ana Robakidze
Tuesday, December 23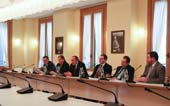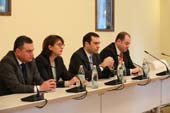 President of Georgia, Giorgi Margvelashvili met the representatives of the Free Democrats party to discuss Georgia-Russian relations and the current challenges in the occupied regions of Abkhazia and South Ossetia.
The president and representatives of the party exchanged their views with regard to solving the country's problems and agreed on the opinion that more active involvement of the international community strengthening security in Georgia is essential.
Chairman of the Free Democrats, former Defense Minister Irakli Alasania said after the meeting that he and his party support the president's initiative on holding an international forum to discuss security issues in the region.
"Certainly, first of all, Russia has to take a responsibility and provide guarantees that it will not renew hostilities. Also, the EU monitoring mission should be given a chance to carry out its work on the other side of the administrative border, in Abkhazia and Tskhinvali region," Alasania said.
The parties also discussed the possibility of holding a high-level meeting between Georgian and Russian leaders. According to Alasania, such a meeting can be possible if Russia expresses its political will to achieve tangible progress in at least several problematic topics with Georgia. The former minister believes Geneva Talks offer a great chance for Russia to express its political will.
According to the president's administration, currently no actions are being carried out to arrange Margvelashvili's meeting with his Russian counterpart.
The Free Democrats positively assessed president's intention to meet various political parties and discuss problematic issues with them.
The meeting was also attended by the former foreign minister, Maia Panjikidze and MPs Irakli Chikovani and Viktor Dolidze.