15 Kinds of 37 Postage Stamps have been issued
Tuesday, December 23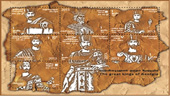 According to the decree of the Ministry of Economy and Sustainable Development of Georgia, 15 kinds of 37 postage stamps were issued on December 22.
New postage stamps are of diverse thematic - They are dedicated to great kings of Georgia, outstanding figures – anniversary dates of Ekvtime Takaishvili and Giorgi Eristavi, Georgia's cultural heritage, postage field etc.
Design of the postage stamps was made and their topographic printing was carried out by Georgian Post ltd.
(Ministry of Economy)