Defence Ministry statement leads to public backlash
By Messenger Staff
Tuesday, December 23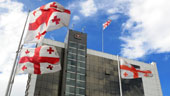 A statement released by the Defence Ministry of Georgia, following the death of a Georgian soldier Aleksabdre Grigolashvili in Ukraine has triggered a public backlash in the country.
The statement read that the irresponsible appeals of the previous government encouraged some Georgian soldiers to take part in the military confrontation in Ukraine.
The ministry offered condolences to the family of the soldiers who were killed and asked Georgian soldiers not to allow themselves to be provoked by the former officials' statements with regard to involvement in the Russian-Ukrainian war.
All the sides-the government, the opposition and the civil sector reacted angrily to the statement, which placed responsibility for the death of the Georgian soldier on the previous government.
The ministry had to remove the statement from its webpage and the Deputy Defence Minister publicly announced the ministry's regret for its mistake. However, some within the public demand that Defence Minister Mindia Janelidze be fired because of this "shameful" act.
Ukraine and Georgia have a common enemy – Russia. Many Ukrainians fought in Georgia's de-facto region of Abkhazia in the 1990s against Russian mercenaries.
Some of them even said that their aim was to defend Ukraine through their sacrifice in Abkhazia. However, Russian aggression reached Ukraine in 2014… During the Russian-Georgian War of 2008, Ukraine's President Viktor Yuschenko stood by Georgia.
The current government wishes to regulate its relations with Russia and its statements regarding the current Ukrainian developments are balanced. As such, appointing former Georgian officials to high posts in Ukraine's new government has been met with great dissatisfaction among those in the current Georgian government.
Georgian soldiers fighting in Ukraine is also not acceptable for the Georgian Dream government.
The dead soldier's wife also made a comment on the statement, pointing out that her husband went to Ukraine based on his own will.
"He went to defend Georgia," she said.
A Georgian soldier Davit Makishvili suggested that if Russia achieves victory in Ukraine, the next target for Russia could be Georgia.
Former President Mikheil Saakashvili called the Ministry of Defence "Russian spies" and stressed that no one from the previous government encourages Georgian soldiers to fight for Ukraine.
Prime Minister Irakli Gharibashvili said that he did not share the opinion made by the official. However, he appealed to people not to dramatize it. "Everyone makes mistakes. I am sure the ministry will recognize it," Gharibashvili said.
Speaking to Tbilisi-based Imedi TV on Sunday evening, Deputy Defense Minister Levan Girsiashvili said that neither the MoD leadership, Defense Minister Mindia Janelidze nor himself was aware in advance that such a statement was going to be released.
"In general, a text of condolence was agreed to with the MoD leadership. The text of the statement, which was [actually released] was not agreed to by the MoD leadership. It was a mistake of a ministry employee for which we apologize," Girsiashvili said.