Moscow prepares treaty on alliance with Tskhinvali
By Ana Robakidze
Wednesday, December 24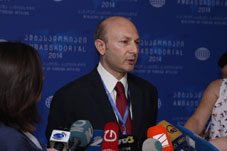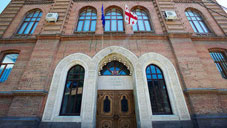 The Foreign Ministry of Georgia condemns the draft agreement on alliance and strategic partnership which is being prepared to be signed between Russia and de-facto government of South Ossetia.
In its official statement the ministry says that the agreement envisages the full integration of the occupied Tskhinvali region into the Russian Federation through unlawful acts such as carrying out coordinated "internal" and "external" policies, ensuring defense and security for South Ossetia, as well as the defense of the border by the Russian Federation.
"The Ministry of Foreign Affairs of Georgia condemns the draft treaty and considers it a flagrant violation of international law and an action directed towards the annexation of Georgia's territories. This treaty is inherently lacking validity and is devoid of any legal consequences… It must be stressed that these actions represent a follow-up to the process of aggression that the Russian Federation has been carrying out against Georgia since the beginning of the 90s, and the occupation of Georgian territories that has been continuing since 2008," the MFA says and calls on the international community to exert pressure on Moscow, as it believes that unanimous international support will be decisive in putting an end to Russia's continued military aggression, occupation and eventual annexation of Georgia's breakaway regions.
Moscow already signed the agreement on alliance and strategic partnership with the Abkhazian de-facto government on December 18. According to the Russian President's top aide Vladislav Surkov, the treaty between Moscow and Tskhinvali will be ready to be signed by late January 2015,
"We are working on a new treaty to strengthen integration between our countries in the sphere of security, and to improve the welfare and social protection of South Ossetia's citizens. I think the document will be finalized by late January," Surkov, who is currently visiting Tskhinvali told Russian News agency Itar Tass. He also mentioned that Russia is ready to provide necessary funds for the further implementation of the treaty.
Russia's unlawful actions in Georgia's breakaway regions were one of the topics discussed at the UN Security Council session of December 22. Representatives of the U.S, Lithuania, and Great Britain condemned the treaty Moscow signed with Sokhumi and said it is was a violation of Georgian sovereignty and poses a great threat to the region.