Minister of Defence visits Military Bases
Thursday, December 25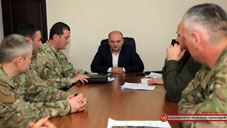 Minister of Defence of Georgia Mindia Janelidze visited Mukhrovani and Orkhevi military bases. Chief of the GS of GAF Major-General Vakhtang Kapanadze accompanied Minister.
The leadership of Ministry of Defence and Armed Forces viewed the infrastructure of the military bases and got familiar with living and working conditions of the soldiers. Minister and Chief of GS talked with commanders of military units and military servicemen.
Minister Mindia Janelidze received the information on the existing problems and focused on the need of eradicating shortcomings. "The goal of the visit is to get familiar with the infrastructural problems in the military bases. We plan to begin large-scale works next year to improve dining facilities, barracks and infrastructure", outlined Defence Minister after the monitoring of the military bases.
From the New Year Defence Minister and the leadership of the MoD will continue inspecting military bases of the GAF. As Defence Minister said the problems and shortcomings will be improved stage by stage.