Company of 4th Mechanized Brigade Arrive in Afghanistan
Thursday, December 25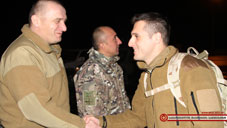 The company of IV Mechanized Brigade of the Georgian Armed Forces has already arrived in Afghanistan. Senior military representative of the GAF in Afghanistan, Colonel John Tatunashvili met the military.
The Georgian military servicemen will carry out the international mission under the German Command on the military base "Marmal" in Mazar-i-Sharif, Afghanistan during 6 months. The Georgian company will replace one of the German units by rotation. The official ceremony of the transfer of authority of the mission will be held later.
The Georgian military underwent 13 weeks training in Georgia, as well as 5 month long training on the "Wildflecken" and "Hammelburg" military which consisted of several phases. The Georgian military underwent individual training at the platoon and squad level under the command of German instructors. The Georgian Company along with the Bundeswehr military is also going through combined and situational training. German instructors positively assessed the preparation level and combat readiness of the Georgian military.