National Guard Day
Thursday, December 25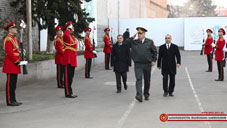 National Guard celebrated its 24th anniversary on December 20. Guard personnel and invited guests marked the jubilee at the drill ground of National Guard.
Chief of General Staff of the GAF, Major General Vakhtang Kapanadze and Deputy Defence Minister Levan Girsiashvili congratulated the guard personnel on their jubilee.
While delivering a speech Chief of General Staff wished the guardsmen success in their future work. He underlined the importance of the Guard in the Georgian Army and spoke about its development plans.
Levan Girsiashvili congratulated the jubilee to the National Guard personnel on behalf of Defence Minister Mindia Janelidze. He outlined that development of National Guard is one of the priorities of the MoD. Deputy Minister also referred to the improvement of reserve and mobilization system.
At the solemn ceremony the guardsmen received rewards for their successful service. Commanders of the 20th and 10th Cadre Brigades, Colonel Davit Badurashvili and LTC Davit Popkhadze were granted service weapons.
130 guardsmen were awarded by the various kinds of service medals – "General Kvinitadze", "General Mazniashvili", "Devoted to Homeland" and "For Outstanding Service". Chief of General Staff expressed his gratitude to the 108 representatives of the National Guard.
Military brass of National Guard performed Georgian national anthem at the solemn ceremony. Guard personnel observed a minute of silence in tribute to the memory of military servicemen fallen for Georgian territorial integrity and while carrying out service duty. Chaplain of the GAF, Father Davit blessed the personnel of National Guard.
National Guard was established on December 20, 1990. This was the first military unit on which Georgian Armed Forces was formed and developed. In the 90s of XX century National Guard played the main role in the combat activities for Georgian territorial integrity.