Gharibashvili calls on public to end hysteria over MOD's recent statement
By Ana Robakidze
Thursday, December 25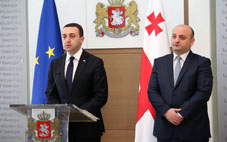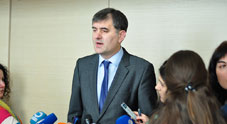 The Prime Minister of Georgia says the society has become oversensitive over the recent statement made by the Ministry of Defence about Alexandre Grigolashvili, who was killed in Ukraine's conflict region. PM Irakli Gharibashvili calls on the Georgian public to stop the hysteria over the ministry and its Chief Mindia Janelidze.
The MoD has been harshly criticized over its controversial statement in which the ministry said the representatives of the former government called on Georgian citizens to take part in the military operation outside of our country, therefore they are responsible for Grigolashvili's death.
Georgian society was not happy with the MOD's consequent reaction, when the high officials of the ministry tried to distance themselves from the statement and the minister did not offer his apologies. The United National Movement (UNM) opposition party even requested the immediate resignation of Janelidze.
"I would like to call on everyone to be more reasonable and to put an end to such talk and this hysteria," PM Garibashvili said at his cabinet session on December 24.
Janelidze who also participated in the cabinet meeting refrained from making any comments for the media.
Members of the cabinet believe that the official apology provided by the Ministry of Defence should have been enough for society.
"The MOD released an official statement of an apology and the PM also assessed the incident. Requesting from the minister to resign cannot be serious," Minister of IDPS, Accommodation and Refugees, Sozar Subari said after the cabinet meeting.
Grigolashvili, who fought on the Ukrainian side against the rebels in the east of the country, was killed in the town of Shchastya in the Luhansk region on December 19. After accusing the former government in Grigolashvili's death, The Mod was forced to remove the statement from the web-page and to apologize for the mistake.
"The text was prepared by MoD employees, but it was not agreed to by the Defence Minister," the Deputy Defence Minister, Levan Ghirsiashvili said in his TV interview. .