IMF Completes First Review Under Stand-By Arrangement for Georgia
Monday, December 29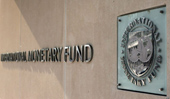 The International Monetary Fund has given a green light for Georgia to receive the tranche of financial assistance totalling US$58.1 million, according to the Ministry of Finance of Georgia.
"Despite a challenging external environment, macroeconomic developments in 2014 continue to be in line with the program. Growth of 5 percent is expected, helped by strong domestic demand and the fiscal expansion. Inflation has gradually increased but remains below the target of 6 percent for 2014. The current account deficit has widened to 8.5 percent of GDP as expected with this year's economic recovery. Although fiscal policy remains supportive to growth, the fiscal deficit is expected to come in lower than the 3.7 percent of GDP projected in the program.
Program performance is on track with all criteria and indicative targets met as of the end-September 2014 test date. Inflation has also been well within the bands set by the program. However, the study of possible obstacles to access to finance was not completed by September as expected under the program. It will instead be completed in 2015, to allow more time to incorporate inputs from key development partners and to make a deeper assessment
The program's strategy of medium-term fiscal consolidation, inflation targeting with central bank independence, strengthening resistance to external shocks and improved competitiveness remains appropriate. Structural reforms remain essential to sustain growth. The authorities continue to be committed to fiscal adjustment, as evident by a 2015 budget that reduces the deficit to 3.0 percent of GDP. External adjustment remains a priority, and the flexible exchange rate regime helps to preserve competitiveness, as exchange rates in partner countries adjust. Although there are downside risks, the recent fall in oil prices could boost growth and reduce the current account deficit", the International Monetary Fund said in a statement.
(Frontnews.ge)