Is Putin an enemy?
By Messenger Staff
Monday, December 29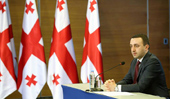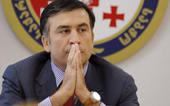 Prime Minister of Georgia Irakli Gharibashvili avoided giving a direct answer to one of Georgia's media outlets when the journalist asked him whether Russian President Vladimir Putin was an enemy of Ukraine and Georgia. However, the PM stated that Georgia's enemy is the former president Mikheil Saakashvili and his party the United National Movement (UNM). His statement caused an outburst of political emotions in Georgia.
Gharibashvili said the question was provocative. "I am not going to make some statements just for the sake of pleasing you," the PM told the media representative. Instead he spoke about the former president and said if Saakashvili had been the president of Georgia now, the country would have been at war with Russia.
If there was no Bidzina Ivanishvili and his Georgina Dream Coalition, Georgia would have been involved in a more complicated situation than it is in Ukraine now.
"The enemy of a country cannot be an individual," State Minister on Reconciliation Paata Zakareishvili said, adding that only states can be said to be enemies to each other. Head of the Parliamentary Commission on Human Rights Eka Beselia suggests that the PM did not avoid answering the question, on the contrary, he gave direct answer pointing at Mikheil Saakashvili, as the one who caused more damage to Georgia than anybody else.
The PM's words were justified by some political analysts. Ramaz Sakvarelidze thinks that there is a risk that any irresponsible rhetoric could create very complicated consequences for the country. "Even Ukraine's President Petro Poroshenko does not say Putin is an enemy," Sakvarelidze stated.
Fellow analyst Soso Tsiskarishvili agreed that political leaders should be more responsible with their words. According to him, Gharibashvili managed to find a way out from an awkward situation and maintain diplomatic ethics.
Even the former Parliament Speaker Nino Burjanadze, who leads one of the non-parliamentary opposition parties, supported the PM's position. "Putin is not Georgia's enemy. He does what it takes to meet his countries interests. I am not going to criticize the PM's comments concerning Putin," Brjanadzew said.
Representatives of the UNM opposition party disagree with Gharibashvili. One of the party leaders, Giga Bokeria, said the PM's position is nothing but "political schizophrenia."
Another leader of the UNM, Mikheil Machavariani, stated that Putin is an enemy not to Georgia, but to the whole civilized world.
To sum up, we can bring up three positions. One is that Putin is not Georgia's enemy, another opinion suggests that even if the Russian president in an enemy, it should not be voiced loudly, and the third position says everything should be labeled correctly and openly.