PM says 2015 will be a year of economic development
By Ana Robakidze
Monday, January 5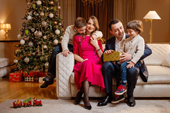 2014 was a year of historic importance, Prime Minister Irakli Gharibashvili said during his New Year address.
"The past year was historical for our country. It brought us closer to Europe. The future of Georgia is European. It was the aspiration of our great ancestors and it is our aspiration also. We will spare no efforts to achieve this goal," Garibashvili said in his speech televised on December 31.
The PM stressed that the unity of the nation can be a strong base for building a truly European state. Gharibashvili also addressed Abkhazians and Ossetians and said these people have the same homeland with Georgians.
"The foundation of success of the Georgian state is our unanimity, unity, as well as responsibility and commitment of each of us – the authorities and the people – towards the country…"We can do much more and today we need to stand together like never before in order to make our homeland a strong European state," he said.
Gharibashvili promised that the government will spare no efforts to make 2015 a year of economic growth and improved living standards. He said development of manufacturing and agriculture, better healthcare and better education are the major tasks on the government's agenda for 2015.
"We carried out important social, healthcare, education, economic, agriculture projects, which no one had paid attention to for years…Of course we know that it is not enough. Our people deserve more and we have to do much more," Garibashvili said.
According to the PM his government will attract more investment and will create more jobs in the country.