New Year political messages
By Messenger Staff
Monday, January 5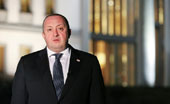 2014 was a politically tense year for Georgia, and considering the New Year addresses given by various political entities, 2015 is not going to be calm either.
The amendment introduced in the Constitution during the United National Movement period resulted in serious confusion. In fact, both the president and prime minister addressed the country. For many Georgians, it is still not clear who the actual leader of the country is.
The Georgian Dream Coalition considers that the Prime Minister is the actual leader of the country. However, the president still possesses significant and important functions. It was evident even in his official New Year congratulation messages. Two of the highest officials, the President and the PM sent their messages to Georgia, as well as the head of the Georgian church, Patriarch Illia II.
The congratulation message sent by the Parliament Chairman Davit Usupashvili created a mini scandal. Usupashvili wished all the leaders of Parliament member perties a happy New Year, including the leader of the UNM Mikhail Saakashvili, who the Georgian government has asked to be placed on an international wanted list.
However, if Usupashvili had not mentioned the leader of the opposition party, it would have been assessed as undemocratic. The situation is very awkward,
Other political leaders, also sent their New Year whishes to the Georgian people. The chairperson of the Free Democrats Irakli Alasania highlighted the agreement concluded with the EU, as well as the NATO substantial package. The leader of the Labor Party said the country has to be protected from corrupt, immoral and non-patriot elements.
In his address, the Patriarch of Georgia tried to cheer the people up, by expressing his confidence that the country will unite soon.
Georgia's celebration of New Year lasts for over 2 weeks and the day is celebrated twice, on December 31 and January 14. In addition, Christmas is celebrated according to the Julian calendar on January 7.