The Patriarch of Georgia speaks on Russia
By Ana Robakidze
Tuesday, January 6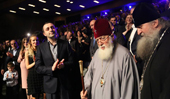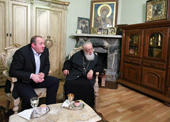 The Patriarch of Georgia Illia II believes even though Georgia is in difficult relations with Russia, the countries should still try to start negotiations.
Speaking to Georgian Public Broadcaster, the Patriarch mentioned it is common for large countries to strive for claiming even greater territories and it always turns into a very difficult situation for the smaller ones.
"I had a meeting with the Queen of England. She said it is difficult for a small country to be the neighbor of a great country," Iliia II stated. He said that the European countries and the United States have been reiterating that they have been supporting Georgia for over 20 years, but Russia maintains its policy. Therefore, Georgia together with its partner states, should try to find a way to resume talks with Russia.
Illia II also answered questions about the break-away regions and said the Abkhazian and Ossetian people should know that they will be happier with Georgia, rather than with Russia.
"I have been repeatedly stating that said that separatism is like an infection. So, the government must analyze the situation and find ways to return Abkhazia and Samachablo," the Patriarch stated. He added that assumptions that we have lost the regions are wrong and Georgian have just temporarily lost its control over these regions.
Illia II second, who has been leading the Georgian church for 37 years now, turned 82 years old on January 4th. HE personally received birthday wishes from the President and Prime Minister of the country.
"It is with great respect and reverence that I wish Catholicos Patriarch of All Georgia Ilia II a happy birthday. I wish his holiness our country's progress, spiritual strength and prosperity, and many years and health for the benefit of our nation." PM, Irakli Gharibashvili said in his official statement.