Georgia's population is shrinking- Paata Shavishvili
Tuesday, January 6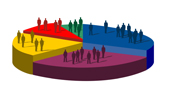 Paata Shavishvili, head of the Population Census and Demography Service, claimed in his interview with the "Kviris Palitra'' newspaper that compared to 2002, Georgia's population has decreased in number.
"Unfortunately, there is a downward trend in the population; we are becoming fewer. There are less of us now compared to 2002," - he said.
According to him, the final results of the census will be available in a year and a half, but preliminary results will be published by the end of April 2015.
"Many experts, including the UN representatives, claim the Georgian population is getting older. The census will show us how real the danger is,"- Shavishvili said.
(IPN)