Government expects 5% economic growth in 2015
By Ana Robakidze
Wednesday, January 7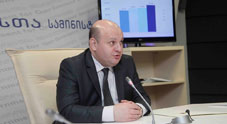 The Ministry of Finance announced that the 2014 state budget has been fulfilled with a surplus. However, Georgian expert still remain suspicious about the stability of the economy in the country.
According to the official report provided by the ministry, the economic growth was recorded at 5.2% in 2014, and tax revenue was 70 million GEL more than was originally planned. Minister of Finance Nodar Khaduri believes the country should expect an additional 5% economic growth in 2015. The minister says it is now up to the private sector to help with economic development.
"The main challenge for 2015 will be ensuring the private sector takes the leading position in developing the country's economy. The budget showed all the prospects that Georgia has in general. We will do our best to make 2015-2016 more successful compared to 2014. Though, it should be noted that 2014 was an exception," Khaduri said commenting of the budget.
The state budget revenue for 2014 was 9.1 billion Gel, which is 2% more compared to the initially planned revenue, while the budget expenditures amounted in 8.9 billion GEL.
Georgian experts believe 2015 will be a difficult year for currency stability.
"Today we face several challenges determining the stability of our national currency. Some external factors such as the recent developments in our trading partner states - Turkey, Ukraine and Russia - are also worth taking into account. As you know, in these countries the national currency's value is ratcheting down. The issue of remittances from Russia and Ukraine is also worth taking into consideration," explained financial expert Levan Kalandadze.
He also advises the government to increase its efforts and to attract foreign investment in the country and to elaborate a budgetary system and an optimal spending policy.
"In the case nothing is changed and foreign investment does not increase, the imbalance between GEL and USD will be unavoidable," Kalandadze stated.