Web page of the French Carrefour hacked
By Ana Robakidze
Monday, January 12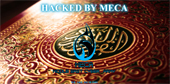 The Georgian web-page of the French hypermarket Carrefour was hacked on January 11. This text was posted on the carrefour.com.ge website, which is now blocked. The international side of the brand www.carrefour.com is operating as usual however:
"Hacked By Middle East Cyber Army. WE ARE MUSLIMS... We are Muslims, the Quran is our book; In God we trust; For God we work; Screw you Charlie Hebdo; Islam is and always will dominate!!! Islam is the truth!! That's why Islam is the fastest growing religion!!!
Unauthorized access or altering computer data without permission is illegal under the Criminal Code of Georgia. According to the Ministry of Internal Affairs, an investigation is underway.