Traffic restrictions lifted in most regions
Tuesday, January 13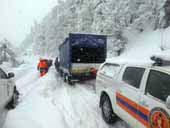 Restrictions imposed on traffic due to severe wind and threats of avalanche have already been lifted in most regions.
As the Ministry of Regional Development and Infrastructure has informed InterPressNews, traffic is no longer restricted on central highways, Rikoti passage, in Ninotsminda as well as in Kakheti, Adjara and Guria regions.
Certain restrictions are still in place in high mountainous regions.
(IPN)