Re-think Georgia's policy on Russia?
By Messenger Staff
Tuesday, January 13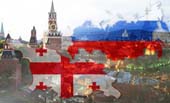 A couple of days ago during his trip to Latvia, Georgia's Prime Minister Irakli Gharibashvili highlighted that Georgia's constructive policy towards Russia has not provided any tangible benefits.
Some claim that the PM's comment might result in a change of policy towards Russia, others stress that it was simply a message to Russia.
"We have taken multiple constructive steps with Russia with the goal of improving relations. However, our attempts have not been reciprocated in any meaningful way," Gharibashvili said.
Gharibashvili stressed that Georgia's chief problem are its occupied regions and the complications that have resulted.
"We want to have friendly relations with our neighbors, but not at the expense of our country's sovereignty and territorial integrity," Gharibashvili explained.
Russia violated Georgia's territorial integrity and occupied the regions of Abkhazia and South Ossetia. Russia then recognized the regions as independent states after the August War in 2008 and has now signed a treaty on Alliance and Partnership with Abkhazia, which has been viewed as an attempt at annexation. Despite the negative evaluations, Russia plans to sign the same type of an agreement with South Ossetia in February 2015.
As such, the current government's constructive policy towards Russia with regard to Georgia's territorial integrity has been futile.
Other successes with Russia, including positive moves in the economic field, can be taken as less significant compared to the above-mentioned key point.
Whether the government really changes its policy towards Russia or not remains unknown.
According to a Member of Parliament's Foreign Relations' Committee, Republican Levan Berdzenishvili, the government intends no abrupt policy changes in the near future.
"Georgia's foreign policy priorities are specified by parliament, no changes have been announced in terms of Georgian-Russian relations," Berdzenishvili said.
He admitted that Georgia's policy towards Russia does not touch on political issues.
"It (the current policy) aims at improving economic ties without diplomatic relations," Berdzenishvili said.
Georgia's recent policy with Russia has been strongly criticized by the opposition United National Movement. They claim that the policy made Georgia take several steps backwards and nearly left the country to face Russia isolated and without its allies.
Some analysts, however, believe that a face-to-face meeting of Georgian-Russian leaders might bring some clearness in the two countries' relations. According to them, even in the case that the meeting brings no viable results, at least we would know what Russia wants from us.
They believe that 2015 will be decisive year for Georgian-Russian relations.