NATO-Georgia commission meets in Brussels
By Ana Robakidze
Friday, January 16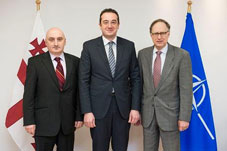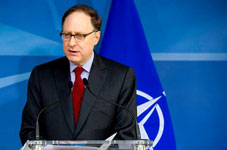 Deputy Secretary General of NATO, Alexander Vershbow says the alliance supports Georgia's future membership and the country has what it needs to reach this goal.
"NATO is fully committed to Georgia's future membership. All tools are in place to move forward with Georgia's aspirations," Vershbow wrote on his Twitter, after the NATO-Georgia Commission meeting in Brussels on January 14.
"NATO and aspiring member Georgia have a robust partnership with a high degree of interoperability of forces thanks to the mission in Afghanistan," Vershbow says in his other Tweet.
The meeting held at the Foreign Minister-level meeting was attended by the State Minister of Georgia on European and Euro-Atlantic Integration Davit Bakradze and by the Georgian First Deputy Foreign Minister Davit Dondua.
According to the Ministry of Foreign Affairs of Georgia, the parties discussed the implementation of the 2014 Annual National Programme and the security challenges Georgia faces today, including the treaty signed between the Abkhazian de-facto regime and the Russian Federation.
NATO representatives praised Georgia for the successful reforms carried out within the Annual National Programme for 2014 and once again confirmed their readiness to take an active part in the process of the successful realization of the substantial package offered by NATO at the Wales Summit.
Bakradze and Dondua had a separate meeting with the Deputy Secretary General prior to the NATO-Georgia Commission session to discuss additional security issues.
Foreign Minister Tamar Beruchashvili believes Vershbow's remarks regarding Georgia is another victory for the government achieved through reforms. Speaking after the cabinet meeting on Thursday, Beruchashvili said it is very important that Vershbow once again voiced the alliance position regarding Georgia's future membership.