Father Ilia to be buried in Mtskheta
By Ana Robakidze
Tuesday, January 20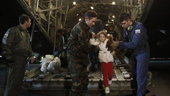 The body of a Georgian Archimandrite, who died on an Italian ferry in the Adriatic Sea, was transported to Georgia on January 19. The Clergymen, parish and family members met Father Ilia Kartozia's body at Tbilisi Airport and accompanied him to the cathedral of the Holy Trinity, where civil funeral rites took place.
The priest's body will be transferred to David Agmashenebeli monastery in Mtskheta and will be buried in the yard.
President Giorgi Margvelashvili gave the late Archimandrite a posthumous award for his bravery.
According to the president's press center, Margvelashvili awarded the Archimandrite for his exemplary civil devotion, heroism and extraordinary personal bravery.
Representatives of the government, as well as diplomatic corps arrived at the cathedral to pay respect to father Ilia.
"It is an honor for me to pay my respect to father Ilia Kartozia." U.S Ambassador Richard Norland told media representatives who gathered outside the cathedral. According to the diplomat, Kartozia was an example of exceptional bravery.
The Norman Atlantic was on its way from Patras in Greece to Ancona in Italy when a fire broke out on its car deck. According to the survivors, late Archimandrite could not leave the ferry as he had let a woman with a child take his place on the rescue boat. Katrtozia died when the rescue team was helping him to leave the ferry, but the cable between their tugboat and the ferry snapped and Kartozia fell in the sea.
Kartozia left for Italy as a pilgrim to visit St. Nicolas burial place in the city of Bari,
The 26,900-ton roll-on, roll-off ferry was chartered to the Greek line Anek, but the ship was flying the Italian flag, so Italian prosecutors have claimed jurisdiction over the inquiry.
According to some witnesses, the alarm was sounded too late and the crew was ill-prepared for the emergency and a malfunction of at least one fire door was among the defects noticed in an inspection of the vessel earlier this month.