Foreign experts will work on the elimination of traffic jams
Tuesday, January 20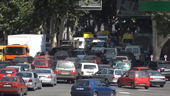 Foreign experts are expected in Tbilisi in the coming days. They will develop a specific project together with the government, which will help to solve the cityís traffic woes. Foreign experts will study the situation and provide recommendations to the city government. Consultations are planned.
City Council opposition says that itís just promises and nothing is done in the city.
"Research, experts, commissions, different groupsÖ this is the" Georgian Dreamís working style, which clearly shows that nothing is being done. We have offered specific recommendations on eliminating traffic jams. The project of the bypass road has been stopped. What can the Irish expert offer to solve this problem?" said Irakli Abesadze from the National Movement.
(Rustavi2)