Georgians fighting in Ukraine legal?
By Messenger Staff
Tuesday, January 20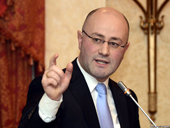 Deputy Minister of Internal Affairs (MIA) Levan Izoria states that the restriction of legislation concerning joining or training with illegal military groups abroad will not concern those Georgians fighting in Ukraine.
He made a comment following speculation made by the opposition United National Movement (UNM) that the restrictions in the law were obscure.
"The issue has resulted in conjecture and I want to define that the planned amendments in the law do not affect legal formations, including those fighting in Ukraine together with the legitimate government of the country," Izoria said.
The official has informed that joining some terrorist groups was punishable according to Georgian legislation in the former years as well.
"However, recent developments in Syria and Iraq do not fit in the classical definition of terrorism. We adhere to the international regulations and responses in terms of the so-called Islamic State threat."
"Those who decide to join any military groups abroad, undergo training there or try to win somebody over will be sent to prison for 5-10 years," Izoria said.
Several days ago Georgia's Minister of Justice Thea Tsulukiani said that new amendment planned for Georgia's Criminal Code would affect all people who joined illegal groups in countries such as Syria, Iraq or elsewhere.
Tsulukiani said she remembered that 18 months ago she visited the Pankisi Gorge, a valley mainly inhabited by the Kist sub-ethnos in northeastern Georgia that bordered the Chechen Republic of the Russian Federation, where the local population expressed their concern that some of their youth was becoming "interested in terrorism".
The gorge was also home to Tarkhan Batirashvili who is also known as Abu Omar al-Shishani, one of the military leaders of Islamic State.
Commenting on the initiative, members of the opposition United National Movement (UNM) stated that they would not have supported the amendments if it had concerned Georgians fighting in Ukraine alongside the Ukraine government against Russia. "The current government is less interested in the flow of Georgians' to Syria, they feel so much hatred to the UNM and Georgia's former President Mikheil Saakashvili that are ready to follow unacceptable steps," UNM MP Davit Darchiashvili said.
Military analyst Irakli Aladashvili stated that the issue has always been on the agenda, but has become active in the course of the Ukrainian developments and political aspects.
"When it comes to leaving for Iraq and Syria, the motivation is radical Islam. In the case of Georgians in Ukraine, motivation is fighting against a common enemy. However, there are those Georgians combating in favor of Russia in the war too. In all the three cases we cannot exclude financial interest," Aladashvili states. The analyst says it was obvious that Georgians in Syria, Iraq or those fighting for Russia in Ukraine could be labeled as illegal groups, while certain Georgian units in Ukraine under its military command were legal.