PACE debates on Humanitarian situation in Ukraine
By Ana Robakidze
Thursday, January 29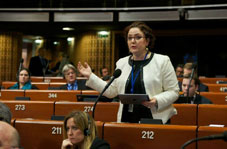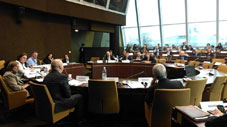 Georgian MP Tina Khidasheli says it is time for the democratic world to unite and tell Russia to stop. Speaking at the winter session of the Parliamentary Assembly of the Council of Europe (PACE) Khidasheli said it is time for Europe "to stop saying half-tone sentences".
"Europe and the whole democratic world should take action to stop Russian aggression and the current events. Russia continues to occupy more and more territories of sovereign states; this country is trying to change international law. Thousands of people have been killed and millions of citizens have been displaced due to Russia's imperial goals," Khidasheli stated in the debates on the Humanitarian State of Ukrainian Refugees and IDPs.
Chiora Taktakishvili another MP from Georgia who also took part in the debates reminded the European MPs that Russia remain unresponsive towards any peaceful negotiations.
"When PACE tries to hold negotiations with Russia, the attacks are being held on Mariupolis city where no military actions have being held before. This is the Russian answer to the dialogue," Taktakishvili stated.
140 MPs voted in favor of the resolution on Humanitarian situation in Ukraine and PACE adopted the draft with the majority of amendments put forward by the Ukrainian delegation, including a call to Russia to coordinate its humanitarian assistance to southeastern Ukraine with the Kiev government.
The Russian delegation did not vote for the resolution. The country has been deprived of the right to vote since April 2014 due to its activities in Ukraine.
The Georgian delegation is in favor of sanctions becoming stricter.