PM says GEL depreciation is a part of the global process
By Ana Robakidze
Friday, January 30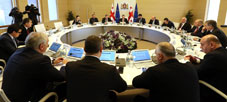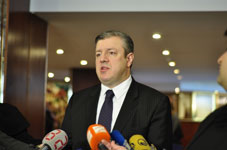 Georgia will face many challenges in 2015 and we have to stand ready for it, Prime Minister Irakli Gharibashvili said at his cabinet meeting on January 29. PM was mainly referring to the financial challenges the country has been experiencing in the last few months due to the national currency's depreciation. According to Gharibashvili, the unsteady economic situation in Georgia is part of a global process and the ministries of finance and economy have to be mobilized at their best and also to prepare monthly reports on the economic situation.
Gharibashvili said the Georgian Lari has remained more stable compared to many other currencies, which have depreciated against the US dollar by 30% or even 56% like Belarusian ruble did.
"We have to mobilize every ministry to make sure the budget is spent the most effective way. This year will not be the easiest one," Gharibashvili told his cabinet.
To discuss the currency depreciation and the impact of external factors on the current economic processes, Garibashvili held a separate meeting with the government's economic team and the President of the National Bank George Kadagidze on January 27. The parties agreed that the floating exchange-rate functions in the country and the economic environment is under control. However, there still are steps to be taken to ensure the long-term stability of the GEL. The ministries and the national bank agreed to work actively to encourage export, tourism and attract direct foreign investment.
As a part of the state's strategy for currency stability, the government is going to pay particular attention to encouraging tourism in Georgia. Therefore, the government will launch the electronic visa (e-visa) program from February of this year.
"We want to increase the number of tourists visiting our country. For this purpose, electronic visas will be launched to simplify the procedures for visiting Georgia," Garibashvili said during the cabinet meeting.