Georgia's economy grew 4.7% in 2014
Monday, February 2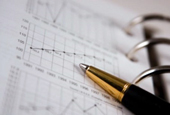 Georgia's economy grew 4.7 percent in 2014 - a pleasing result but slightly less than the five percent growth the Government had hoped for.
Preliminary data released by Geostat, the National Statistics Office of Georgia, revealed the country's economy increased in most months when compared to the same time in 2013 - particularly in December 2014 when the economy grew by 1.9 percent in comparison to December 2013.
Geostat figures showed the Georgian economy increased by 7.2 percent in the first quarter of 2014, followed by a 5.2 percent growth in the second quarter and 6 percent growth in the third quarter.
The estimated real Gross Domestic Product (GDP) growth rate amounted to 1.9 percent for the last quarter of 2014. The estimated annual growth of real GDP equaled 4.7 percent in 2014, said Geostat.
The growth of the Georgian economy was pleasing however the Georgian Government forecast the country would experience five percent growth in 2014.
As for this year's expectations, Georgia's Finance Minister Nodar Khaduri said it was "still too early" to predict the country's economic growth for 2015.
(Agenda.ge)