5-star Hualing Tbilisi Hotel will open in May
Tusday, February 3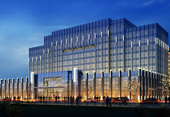 Hualing Tbilisi, a five-star hotel will be opened up on the shorelines of Tbilisi Sea in May 2015. The hotel will be part of Tbilisi Sea New City, which is the largest project of the Chinese Hualing Group in Georgia.
For the first time in Georgia, a Chinese restaurant Ensemble will also be opened in the hotel, which will host the customers with delicious exotic Chinese cuisine.
Created in 2000 in France, the hotel chain Hotels and Preference has more than 150 exceptional hotels around the world offering various activities such as golf, spa and gastronomy. The hotel is included in top five hotels operating in the premium segment.
The chain is mainly composed of four or five-star hotels, offering high-quality services in more than 20 top destinations.
Built in modern European contemporary style, the hotel proposes 247 guestrooms and suites that will provide the customers with a natural, comfortable and elegant stay.
As for Tbilisi Sea New City, the project area occupies 420 hectares of land. The estimated completion time is ten years; the total investment in the first three years will be around $150 million USD.
The project is focused on the economic and urban development of the district. The project will consist of residential space (two million sq. m. constructing area) and commercial space (two million sq. m. constructing area). The residential space will offer apartment and villa complexes, recreational zones etc. The commercial space includes itself International trade and logistics center, which will turn into the largest center in Caucasus region, customs warehouse, five star hotel, fitness center, restaurant and other facilities, such as: high school, college, library, Exhibition Hall, cinema, police station, firefighting, administration, toilets, post office, hospital, clinics, gymnasium, natatorium, etc.
The Thirteen European Olympic festival Tbilisi 2015 village will take place in Tbilisi Sea New City as well.
(Agenda.ge)