Russian market still values
By Messenger Staff
Tuesday, February 3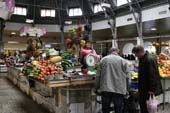 In the course of her visit to the United States Foreign Minister Tamar Beruchashvili told the Radio Liberti that Georgia temporarily suspended trade relations with Russia.
The statement has caused large-scale speculations. The majority shortly denied the statement, referring to an allegeable mistake.
In her interview Berushashvili has labeled the Russian market as a trap, saying that Russia could impose embargo on Georgian products at any time.
She stressed that Russia kept on proceeding its destructive steps with regard to Georgia and sampled the treaty on Alliance and Partnership recently signed between Russia and De-facto Abkhazia.
Those opposition representatives who skeptically viewed current government's friendly attitude to Russia have interpreted the statement as recognition of their approaches.
Georgia's former Foreign Minister Maia Panjikidze has said that "it is tragedy if the government saw the Russian market as a trap and did nothing to search other markets."
The opposition United National Movement Giga Bokeria has suggested that such statements are less trustworthy without a tangible, practical steps.
"We should see the negotiations between Georgia's and Russia's special envoys' terminated, as well as a ban on Russian airliners to Georgia," Bokeria said.
Meanwhile, some opposition members have claimed that the statement had nothing in common with a prevalent vision of the government.
"It appears to be a private statement of the minister. There is lack of communication between the government structures," Free Democrats' MP Nino Gogwadze said.
In her comments,later, Berushashvili denied the suspension of trade relations with Russia and stated that her words concerned the above mentioned special format of meetings between Georgian-Russian envoys.
The minister shifted a responsibility on a journalist, who "incorrectly interpreted her words."
However, Georgia's Special Envoy to Russia Zurab Abashidze, said that his and Russia's Deputy Foreign Minister Gregory Karasin's meeting format was retained without amendments.
Analyst Ramaz Sakvarelidze states that the suspension of trade relations with Russia would not be a reasonable solution.
"Such relations are preserved even at war," he said.
It is obvious that the current government refrains from suspending economic relations with Russia despite the latter's vivid occupant plans towards Georgia.