Georgian Defence Minister Visits Brussels
Friday, February 6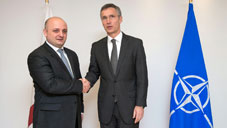 Minister of Defence of Georgia Mindia Janelidze met with NATO Secretary General Jens Stoltenberg in NATO HQ. At the bilateral meeting the sides discussed NATO-Georgia relations and future plans of cooperation. Special focus was placed on the details pertaining to the NATO-Georgia Substantial Package granted to Georgia at the Wales Summit and the achieved progress.
Defence Minister Janelidze declared that the implementation of the NATO-Georgia Substantial Package is one of the priorities of the Defence Ministry. The sides confirmed that implementation of the package will assist in Georgia's defence transformation process, enhancing NATO interoperability, sharing experience gained in international operations and development of defence capabilities.
Regional security issues and existing challenges were also discussed at the meeting. NATO Secretary General reaffirmed the strong support of NATO towards Georgia's territorial integrity and sovereignty noting that the recently signed so-called treaty between the Russian Federation and puppet regime of Abkhazia is unacceptable for the Alliance.
The sides talked about the implemented and ongoing defence reforms. According to Jens Stoltenberg, NATO positively assessed the reformation process and supports the current and planned reforms in the defence and security sphere of Georgia. He underscored the importance of Georgia's contribution to international security. On his part, Defence Minister reiterated Georgia's commitment to participate in NATO Resolute Support Mission and NRF.