Visit of Deputy Head of EUCOM J5/8
Friday, February 6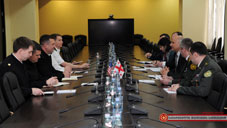 Deputy Head of the United States European Command (EUCOM) J5/8, Brigade General Kevin McNeely pays a working visit to Georgia. The First Deputy Defence Minister Gocha Ratiani and the First Deputy Chief of General Staff of the Georgian Armed Forces, Brigadier General Vladimir Chachibaia hosted him at the Georgian Defence Ministry. Bilateral cooperation in defence sphere and future plans were discussed at the meeting. Adviser to the Defence Minister in Cyber Security Issues, Giorgi Beroshvili and the U.S. Defense Attache Colonel Mathew Dimmick attended the meeting as well.
Brigade General Kevin McNeely reiterated the U.S. support towards Georgia's territorial integrity and Georgia's aspirations for Euro-Atlantic integration. He talked about Georgia's contribution in the NATO Resolute Support Mission in Afghanistan and highlighted the professionalism of the Georgian soldiers.
The sides also discussed the regional security issues and existing challenges with the focus on the importance of close partnership between Georgia and the U.S. and strengthening Georgia's defence capabilities.