Course on Building Integrity and Reducing Corruption
Friday, February 6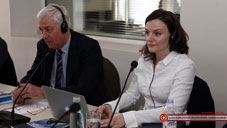 The third course on Building Integrity and Reducing Corruption Risks started at the Professional Development Center of the Defence Ministry. The first Deputy Defence Minister Gocha Ratiani addressed the participants of the seminar and underscored the importance of the course in his speech.
The goal of the course is to introduce the existing corruptions risks in the defence sector and prevention mechanisms. During three days the students will familiarize with the international practice for combating corruption.
The seminar is tailored for the military and civilian leadership of the defence system who will become the members of the Building Integrity and Reducing Corruption Monitoring Council.
The course is led by experienced military and civilian specialists of the Defence Ministry. Representatives of the Justice Ministry and the Georgian office of "Transparency International" also provide lectures for the course participants. Head of NATO Liaison Office William Lahue will talk about the "NATO Building Integrity" Program on the final day of the course. The course is observed by "International Transparency" UK Office representatives Alan Waldron (Defence and Security Program's Senior Advisor) and Eva Anderson (Project Manager of the Government Defence Anti-Corruption Index).
The MoD of Georgia has been actively engaged in the NATO Building Integrity Program since 2013. Under it, implementation of special training programs for civilian and military personnel is of great importance aimed at raising awareness about BI and corruption risks.
The course is run with the joint efforts of the Human Resources and Professional Development Department of the Defence Ministry, Professional Development Center of LEPL National Defence Academy and NATO Liaison Office.