Alexander Vershbow Attended Field Training of Georgian Company
Friday, February 6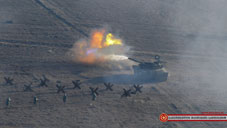 During his official visit to Georgia NATO Deputy Secretary General Alexander Vershbow attended the field training at Vaziani Range. Georgian Defence Minister Mindia Janelidze, Chief of General Staff of the GAF, Major General Vakhtang Kapanadze and Commander of Land Forces Command – East, Colonel Alexandre Kiknadze hosted the foreign guest.
The Georgian Armed Forces held a demonstrative training especially for the NATO Deputy Secretary General aimed at presenting him the abilities of the Vaziani Range. The main purpose of the training was to demonstrate the perfection of interaction between combined forces during military operations and rapid reaction.
Following the exercise, Alexander Vershbow emphasized high professionalism of the Georgian military and potential of Vaziani firing ground: "The training going here at Vaziani by the professional skills of the Georgian Armed Forces is a very impressive performance. Just confirm, I have heard for many years from NATO Commanders, from American Commanders that the Georgian troops are among the best they have ever seen as they are doing great job in our real operations in Afghanistan. This range curtly has tremendous potential for the future and it certainly will be one of the candidates for the Joint Training and Evaluation Center that NATO has agreed to establish with Georgia in the coming months. So, real experts will come to see it, hopefully, next month. But I can say as non-expert, I am very impressed".
Before the training, Assistant to the Commander of the 4th Mechanized Brigade, Major Davit Paposhvili briefed the invited guests about the aim and mission of the exercise, participating elements, security aspects and the presumable action plan of the enemy.
A special program was developed for the exercise. According to an imitated scenario, the main task of the training was to create obstacles for the enemy forces not to enable them to advance while carrying out attacks.
The demonstrative training was a large-scale exercise with participation of 425 military personnel from the 42nd Mechanized Battalion of 4th Mechanized Brigade, a medical team, aviation, artillery, engineer and tank units. Two units of Su-25 jet fighters, UH-1H Iroquois, as well as armored technique of 4th Mechanized Brigade and artillery systems of 1st Artillery Brigade were involved in the training.
Experience from the Georgian soldiers wounded in August War 2008 and ISAF mission were also shared in the training. The Georgian wounded warriors participated in the exercise as observers. The military servicemen of Command and Staff College of the Davit Aghmashenebeli National Defence Academy attended the training as well.
Following the demonstrative training, NATO Deputy Secretary General, Defence Minister of Georgia and Chief of the General Staff visited IV Mechanized Brigade. Commander of the military unit, Colonel Zaza Leladze hosted the guests at virtual simulation training center. Later on, Alexander Vershbow viewed Georgian army equipment and the armament of the IV Mechanized Brigade that meets NATO standards.