Interior Minister says destabilization is unlikley
By Ana Robakidze
Friday, February 6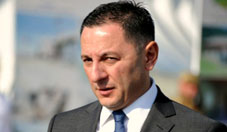 Minister of Internal Affairs Vakhtang Gomelauri says security in the country is ensured by the preventive measures that the ministry observes and that there is no need to be concerned about state security.
MP Nukri Kantaria recently addressed the minister and said it is time to plan and carry out anti-terrorist operations. Kantaria claims that the Karafila incident – referring to Iuri Vazagashvili's murder – is alarming, and will cause a chain reaction in many places, including Georgia.
"We do not have any information to make us believe in the necessity of anti-terrorist measures," Gomelauri said after the cabinet meeting on February 5. He claims if there is a threat to the state's security, the ministry will definitely find out.
Earlier this week, Gomelauri himself spoke about the possible destabilization of the country and said there are some powers in the country trying to undermine the state's security. However, the minister never confirmed whether he was speaking of internal or external forces.
The United National Movement (UNM) opposition party says it is ridiculous to rule the country based on gossip. UNM member Giorgi Vashadze says that the Minister of Internal Affairs should not act as a political expert discussing possibilities; instead he should be providing facts and evidence.
"If he (Minister Gomelauri) has any evidence proving that efforts at destabilization are being undertaken in the country, I request the evidence to be made public," Vashadze said.