Suspect in Yuri Vazagshvili's murder detained
By Ana Robakidze
Monday, February 9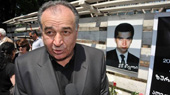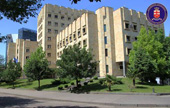 Deputy Chief Prosecutor Irakli Shotadze stated on February 8 that the suspect in Yuri Vazagashvili's murder was detained. The prosecutor's office detaned Gia Sosanashvili, a policeman serving in Tsalka municipality. Sosanashvili's DNA, was found on one part of the hand grenade, which killed Vazagashvili. He denies all charges.
According to the Prosecutor's office many witnesses were questioned and the list of individuals who could have committed the crime was identified.
General Inspection and the Counter intelligence Department of the Ministry of Interior of Georgia cooperated and established that Sosanashvili was on the territory of the village of Karaphila, Kaspi District on January 19-20, 2015, and according to the DNA test report, his DNA matched with the DNA discovered on the so called "fuse handle" of the hand grenade seized from the crime scene.
Deputy Chief Prosecutor did not reveal the possible motives behind the crime due to the fact that investigation is still going on.
Yuri Vazagashvili was a father of Zurab Vazagashvili, who was killed by police in 2006 under very controversial circumstances and his death became one of the high profile cases Georgian Dream government had promised to investigate and establish the truth behind it.
Yuri Vazagashvili became a victim of a grenade hidden at his son's grave on January 20.
Prime Minister Irakli Ghairbashvili, who is currently attending the 51st Munich security conference, said he welcomes the efficiency of the prosecutor's office. He said the investigation team handled a very important challenge of the whole government.
The investigation on this case continues with the qualification of the murder committed under aggravateds circumstances according to the article 109 of the Criminal Code of Georgia.