PM Gharibashvili attends 51st Munich Security Conference
By Ana Robakidze
Monday, February 9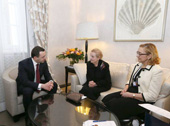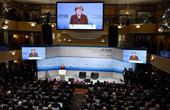 The leaders of 20 countries, more than 60 foreign ministers and defense ministers, as well as over 400 leading politicians and experts attended the opening ceremony of the 51st Munich Security Conference on February 6th.
The conference was opened to discuss the main challenges to world stability, including international terrorism, the crisis in Ukraine, the situation in the Middle East and the global problem connected with refugees.
Prime Minister of Georgia Irakli Gharibashvili, who also took part in the conference, held several high-ranking meetings in Munich.
Gharibashvili held the first meeting with Richard Fontaine, the President of the Center for New American Security, and Michele Flournoy, the CEO of the Center. According to the PM's presenter, the parties discussed the situation in Georgia's occupied territories. Concerns were raised over the so-called treaty on alliance and strategic partnership signed by the Russian Federation with the de facto authorities of Abkhazia and the similar treaty to be signed with the Tskhinvali regime.
Prime Minister Ghraibashvili also met the President of Atlantic Council Frederick Kempe and the Executive Vice President Damon Wilson to discuss the prospects of Georgia - US Atlantic Council, NATO-Georgia relations in general and European integration. Minister of Foreign Affairs, Tamar Beruchashvili and the Chairman of Parliament Committee for Foreign Relations, Tedo Japaridze also attended the meeting.
The parties paid special attention to the progress made in implementation of the substantial package of Georgia-NATO cooperation. According to the Prime Minister's statement, Georgia will continue implementing the comprehensive reforms.
The ongoing reforms in Georgia and the regional security issues were the main topics of Gharibashvili's meeting with the Former US State Secretary, Madeleine Albright, who currently runs NDI.
At the meeting, Albright gave a positive evaluation to the reforms carried out by the Georgian government in its approach to NATO. In addition, the parties discussed the current situation in the occupied territories and relations with Russia.
The Munich Conference was founded in 1962 as The Session of Defense Agencies of NATO Member and later it transformed into an international forum.