ADB offers $108 million USD loan to Georgia
Monday, February 9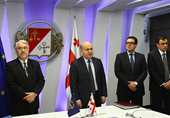 The Asian Development Bank (ADB) is offering Georgia a loan of $108 million USD (218 million GEL) to rehabilitate and modernize water supply and sewerage systems throughout the country.
A special agreement, signed by Georgia's Finance Ministry and the ADB, noted the funds would go towards implementation of the Urban Services Improvement Investment Program – Project N4.
The agreement was signed by Georgia's Finance Minister Nodar Khaduri and Director General of the Central and Western Asian Department of the ADB Klaus Gerhauzer, who is in Georgia on an official visit.
As the funds will go towards upgrading the country's water supply and sewerage systems, director of United Water Supply Company of Georgia Vladimir Lazarishvili was also involved in the signing of the document.
Specifically Project N4 will finance construction of a water supply system in Zugdidi, which is located 318 km west of capital Tbilisi, and sewerage system rehabilitation in Poti in Georgia's eastern Black Sea coast).
About $500 million USD was offered to Georgia in loans to implement the Urban Services Improvement Investment Program – four tranches – from 2011 to 2019. The funds will be spent on improving the sewerage system in seven tourist centres of Georgia.
Currently $218 million GEL has been allocated to three tranches.
While in Georgia ADB's Gerhauzer positively assessed Georgia's economic growth of 2014 and estimated the economy would continue to grow in 2015.
"Economic growth was quite high in 2014. ADB forecast five percent growth of the Georgian economy [in 2014] although its growth rate was 4.7 percent. This is a higher result compared to other countries in the region" Gerhauzer said.
"For example, Armenia has been affected much more by regional developments … by Russia. Overall Georgia has performed very well and the Georgian Government does everything to maintain a stable rate of economic development in 2015 as well," he said.
(Agenda.ge)