Destabilization from within?
By Messenger Staff
Monday, February 9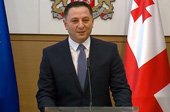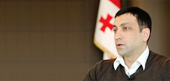 Minister of Internal Affairs Vakhtang Gomelauri recently stated that there are actors that are currently trying to undermine the existing stability in Georgia. Some believe the minister was referring to external actors and others believed he was talking about internal actors. The statement immediately caused indignation among the members of opposition United National Movement (UNM),as some of them believe Gomelauri was alluding to their party. The UNM immediately tried to clarify that they have no interest in destabilizing the country. They asked the minister to provide substantial evidences.
"It would be great if the ministers think carefully before they suspect political parties without any evidence. None of the parties can ever be interested in destabilizing the country," said UNM MP Levan Bejashvili. He also mentioned that the government could cause chaos among the citizenry because it has failed to keep its election promises.
MP Zurab Japaridze also believes it is the current government who risks destabilizing the country because it has failed to handle the most problematic issues. According to the MP, there are definite signs of serious problems in Georgia, not least of which is the increased crime rate and the depreciation of the national currency.
The Free Democrats, another powerful opposition party, also says the government is not powerful enough to face the challenges. MP Nino Goguadze says the ruling party has problems and is not capable of handling the situation. She also advised the Interior Minister to refrain from making political statements and causing a stir among Georgian society. Goguadze says that if Gomelauri is informed about the threat to state security and stability, he should be able to provide some proof.
The Georgian Dream Coalition does not see any threat to the state's security, but some members still call on the Interior Ministry to stay cautious and carry out preventive measures.
Georgian Dream MP Zakaria Kutsnashvili also believes the interior ministry should be able to cite the names of suspect(s) interested in destabilizing Georgia.
"There is no way we will let the Ukraine scenario take place in Georgia," Gomelauri once said. Later Gomelauri said that there are various groups in the world that might want to destabilize Georgia and in other countries as well. He said that he had never suspected any Georgian party or the UNM.