Forum on reforming Prosecutorís Office and Interior Ministry held in Tbilisi
By Ana Robakidze
Tuesday, February 10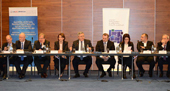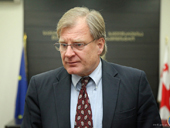 Georgian non-governmental organizations say that the democratic development of the country requires changes in the chief prosecutorís appointment process.
The Coalition for an Independent and Transparent Judiciary advises that the chief prosecutor be nominated by the president and approved by the parliament. NGOs announced their recommendations at the forum held on February 9 to discuss the reforms of the prosecutorís office and the interior ministry.
According to the head of Transparency International Georgia Eka Gigauri, the civil sector acknowledges how difficult it will be to successfully carry out reforms in the prosecutorís office, but the NGOs call on the government to start considering changes in the law and even constitution to ensure the independence of the chief prosecutor and the new way of appointing him. TI Georgia and other NGOs of the coalition support the idea that the chief prosecutor should be nominated by the countryís president.
ďIt would be great if the prosecutorís office is reformed urgently,Ē the Presidentís Advisor in Human Rights Kakha Kojoridze said after the forum. He also mentioned that on October 25, 2012, parliament approved the state program of the new government which envisaged the new model of appointing the chief prosecutor.
U.S Ambassador Richard Norland said that the judiciary still requires further reform. Norland, who also participated in the forum, said that society must have unconditional trust in the prosecutorís office and it is the right time for the government to take steps and make sure the prosecutorís office as well as the interior ministry work transparently.
According to the ambassador, Georgia has made great progress and the government is powerful enough to build a strong and transparent judicial system.