Bulgaria eases visa procedures for Georgians
Tuesday, February 10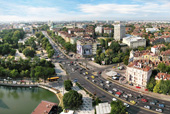 Bulgaria has simplified visa issuing procedures for citizens of Georgia and five other countries.
The Foreign Ministry of Bulgaria announced the changes, which noted citizens of Georgia who previously held a Bulgarian visa can now benefit from short-term double or multiple-entry visas valid for one year.
The decision was made by Bulgarian Foreign Minister Daniel Mitov and Minister of Tourism Nikolina Angelkova.
According to the changes first-time visitors to Bulgaria are entitled to a short-term double or multiple-entry visa for a private trip valid for up to a year, and previous holders of Bulgarian visa can have the same entitlement but their documents will be valid for up to three years.
"The decision comes in response to the upcoming tourist season and the aim of the Ministry of Tourism to promote visits of citizens from traditional markets such as Russia and Ukraine," Foreign Minister Mitov said.
Minors will also benefit from the change in visa rules. Those wishing to visit Bulgaria for tourism reasons or as part of an organized youth camp (training, sports, and cultural exchange) will receive a short-term multiple-entry visa which are valid for up to five years.
Disabled people will also have the right to obtain one year double or multiple-entry tourist visas.
Moreover, easy visa issuing procedures are now also available for citizens of Ukraine, Armenia, Russia, Kazakhstan and Belarus.
(Agenda.ge)