War in Ukraine echoes in Georgia
By Messenger Staff
Tuesday, February 10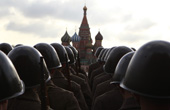 The West is still failing to put a stop to the military offensives in Ukraine. Meanwhile, Georgia cautiously observes the developments from afar. Nothing can be excluded: Georgia could face the same threat from Russia.
The leaders of Russia, Ukraine, Germany and France agreed to meet in Belarus on Wednesday to try to broker a peace deal over Ukraine amid escalating violence there and signs of cracks in the transatlantic consensus on confronting Vladimir Putin.
The four leaders held a call on Sunday, two days after Chancellor Angela Merkel and French President Francois Hollande traveled to Moscow for talks with Putin that produced no breakthrough in the nearly year-long conflict that has claimed over 5,000 lives.
German leaders believe that establishing the long-term peace and security of Europe is less likely without Russia's involvement.
There is speculation among Russian analysts that Russia will turn down the peace proposals.
The Russian President's former advisor Andrei Ilarionov believes that the military confrontation will intensify in Ukraine in the near future and Russia might even target Kiev.
"It will be a mass attack on the central Ukraine," Ilarionov suggested.
"The aim will be to weaken or destroy the current Ukrainian leadership. The only way to stop the war is victory over Ukraine," he said. The current government of Georgia has become more critical in its statements towards Russia.
At the 51st Munich Security Conference on February 7, Georgian Prime Minister Irakli Gharibashvili emphasized that if sanctions has been imposed on Russia following the August 2008 War with Georgia, then the conflict in Ukraine could have been prevented.
At the international conference, the Georgian PM also voiced his concern about the current situation in Georgia's Russian-occupied regions.
"More than two decades after the fall of the Berlin Wall, we are again living with new dividing lines in the heart of Europe," he said.
"Despite our diplomatic attempts, the unconstructive policy against Georgian statehood continues, including the installation of barbed wire fences along the occupation line, and in some cases, even in the territory controlled by the Georgian government."
Meanwhile, Georgia's former President Mikheil Saakashvili is asking the West to provide Ukraine with weapons. He claims only this can stop Russia.
NATO General Secretary Jens Stoltenberg stressed at the conference that Russia takes destructive steps with regard to Georgia's occupied regions, and causes tension.
It is obvious that what happens with Georgia will largely be dependent on how things play-out in Ukraine.