Davit Usupashvili speaks at Eastern Partnership civil society national forum
By Ana Robakidze
Thursday, February 12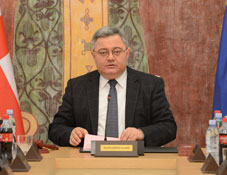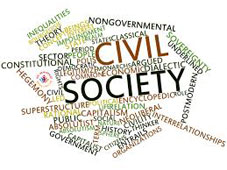 Chairman of the Georgian Parliament Davit Usupashvili says Georgia has been approaching Europe for over 20 years now and the process is irreversible, still the integration process requires great efforts from the government, as well as from the Georgian people.
Speaking at the Eastern Partnership civil society national forum in Tbilisi, Usupashvili said that the collapse of the Soviet Union was the starting point of Georgia's path towards Europe.
Usupashvili said Georgia could have had a swift and painless way to Europe, but certain factors like Georgia's geopolitical location have hampered the process.
"Despite the obvious choice of the Georgian people, which has been expressed in every possible form and means, the government, as well as society still have serious work to do to make the process (of integration with Europe) truly irreversible," Usupashvili said.
The chairman emphasized the role of the ordinary people in the European integration process. Usupashvili said that joining the European family is a natural need Georgians have and it is important to build a strong civil society.
"When civil society is comprised of active, intelligent and free citizens, it becomes the backbone of the state … this is what Europe really is," Usupashvili said.
According to the parliamentary chairman there is no time for Georgia to waste and that the Georgian government should get rid of the bad habit of starting everything over. Usupashvili said when a new government takes over the cabinet, every important state project begin all over again, instead of continuing what the previous government had started.
The Eastern Partnership Civil Society Forum (EaP CSF) is a multi-layered regional civil society platform aimed at promoting European integration, facilitating reforms and democratic transformations in the six Eastern Partnership countries