Russia-Ukraine conflict sees Georgia's exports drop 9% in January
Monday, February 16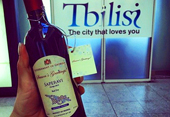 Georgia experienced a nine percent decline in external merchandise trade due to the ongoing Russia-Ukraine conflict.
External merchandise trade, excluding non-organized trade, of Georgia amounted to $694 million USD (about 1.4 billion GEL) in January 2015. This was a nine percent drop when compared to the same month of 2014, announced Geostat, the National Statistics Office of Georgia.
When looking at January year-on-year (y/y) comparisons, in 2015 the value of Georgian export decreased by 30 percent, totaling $156 million (317 million GEL), while imports decreased by one percent and amounted to $538 million (1.1 billion GEL).
Last month the trade deficit equaled $382 million (776 million GEL) – constituting 55 percent of the total trade turnover.
Georgia's Ministry of Economy published an official announcement in response to the release of Geostat data, and said the decline in exports was caused by the tense political and economic situation between Russia and Ukraine.
"The Russia-Ukraine conflict became a serious reason for declining Georgia's exports to these two markets in January. More specifically, [products which saw a major] export decline was Georgian wine (65 percent), spirits (87 percent), mineral water and citrus."
"However, export to the European Union increased by 21 percent or $8.5 million. Export to Italy increased by $6 million; to Germany by $4.4 million and to Spain by $1.1 million," said the Ministry.
"As for products, the export of nuts increased by 100 percent, or $9.4 million; fruit and vegetable juice by 54 percent; greens by 60 percent and fish by 169 percent."
The Ministry said industrial production export, excluding the re-exporting of cars, was a positive area of export last month and totaled $65 million (132 million GEL).
(Agenda.ge)